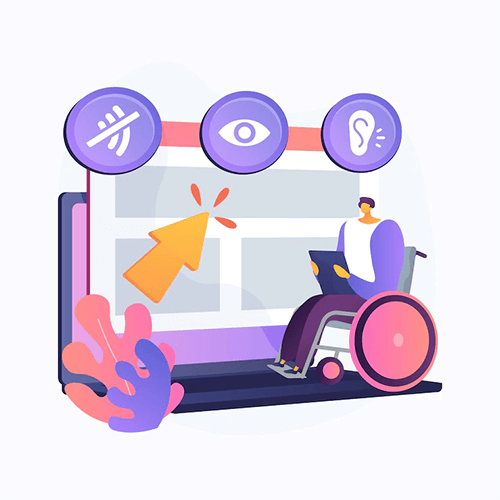 Know more about Accessible Software
Digital and web accessibility is no longer an option. Companies and public agencies across the nation are expected to provide an equally accessible experience for all of their customers and laws are rapidly changing to mandate these changes.
Accessibility ensures people with disabilities can access the same information from a system as everyone else, and also gain the same benefits.
With 4.5% of the global population experiencing color blindness, 4% suffering from low vision, and another 0.6% being blind, visual difficulties with using the web are more prevalent than you might appreciate.
M
o
r
e
I
n
f
o
M
o
r
e
I
n
f
o

Whether you need to build a new website or modify an existing one, our development team will implement an accessible solution. We are available to solve your technical accessibility issues and answer questions during the remediation process.
Build or assist in creation of a new accessible and Section 508 compliant website
Correct accessibility issues with your current website
Adhere to the highest standards set by W3C for XHTML, HTML 5, CSS, WCAG 2.1, and to the Section 508 standards
Optimize search engines
Ensure usability for everyone, including users with disabilities
Provide an engaging user experience while meeting your accessibility goals
Choose Your Best Affordable
Pricing plan
| FEATURES | SILVER | GOLD | PLATINUM |
| --- | --- | --- | --- |
| Number of website URLs | Up to 30 | Up to 150 | Up to 400 |
| WCAG 2.1 AA, ADA, Section 508, EN 301549 compliance | Yes | Yes | Yes |
| Accessibility statement and certification of performance | Yes | Yes | Yes |
| Weekly automated compliance monitoring scans | Yes | Yes | Yes |
| Automatic 96%+ success rate AI-powered remediation | Yes | Yes | Yes |
| Automatic monthly cloud updates | Yes | Yes | Yes |
| Fully customizable: positions, colors, icons, shapes, sizes & more | Yes | Yes | Yes |
| Platform installation and configuration (Up to 5 hrs setup time included) | Yes | Yes | Yes |
| Year 1 Setup + License: | $1750 | $3050 | $10,250 |
| Year 2 License: | $1050 | $2000 | $7050 |